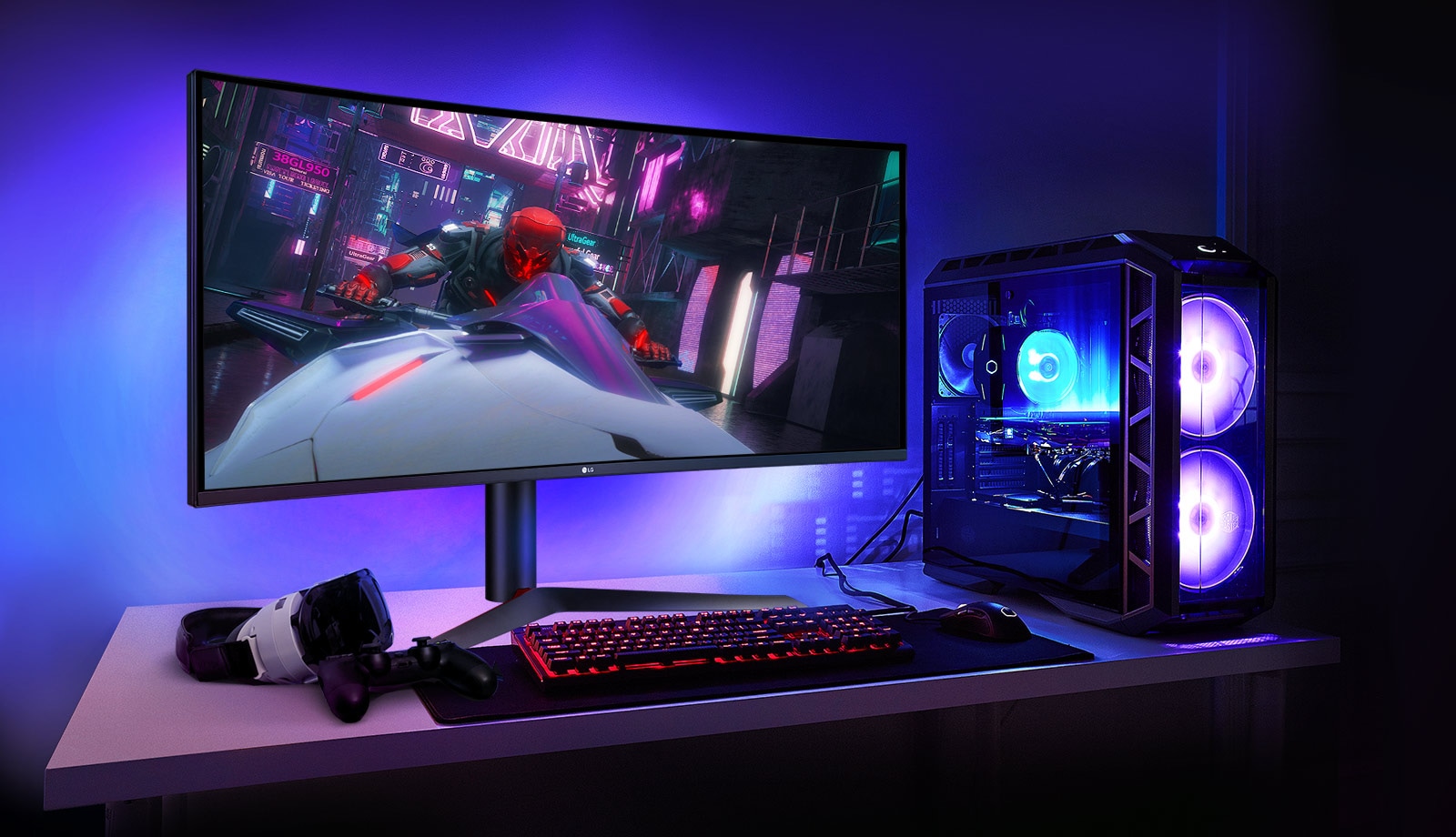 Overview of gaming monitor
In this post we"ll see some of the best gaming monitor in the market. We"ll also look about the features you should consider while buying your dream gaming monitor.
If you are a true pro gamer, no doubt a perfect and best 4k or 5k monitor is just your crucial requirement for gaming. Doesn't matter how powerful your CPU and GPU is, doesn't matter how dedicated gamer you are, without a best gaming monitor, it is tasteless gaming experience.
Gaming thirst can be fulfilled on laptops too, but for a dedicated gamers, a perfect gaming PC setup is a must parameters. Even some crazy gamers dedicate the whole room to gaming, doesn't matter how angry their parents are.
With more and more potential coming in gaming market, companies are trying to build better and better monitor that fulfills every aspects for game lovers. But not all monitor are build for dedicated gaming. Some are designed for general tasks, some are good monitors for home office while others are those you are looking for here. Lets talk about that.
A best gaming monitor is expected to give you ultimate gaming experience in 4k clarity with good response time and color accuracy. It should be inbuild with G-Sync/FreeSync to provide tearing and stuttering free performances.
The screen might be curved little bit to give virtual 3D experience and comes with beautiful looking flexible stand. The whole monitor should be the center of attraction in your whole room.
Things to consider while buying the best gaming monitor
Screen Size
As you want the best monitor for gaming, definitely the screen size should be ideally good enough to let you play like a pro. A big screen give you detail of everything accurately and you need not to give your eye extra focus to see some tiny things.
Some screens come in wide length while some are ultra-wide. If you want to enjoy more while gaming, i suggest you to select ultra wide screen. This will not just let you to play games more efficiently but also able you to split screen and read live live chats in that while playing.
One can also go with the curved screens which not just give you amazing look physically but also give you amazing experience for playing modern high quality games. Even not exactly 3D, but curved screens gives you 3D like experience by providing extra height and depth perceptions.
Panel Type
There are various types of screen panel technology used for the production of monitors. These are TN, IPS, VA, OLED etc. These all have its own features and drawbacks. Lets discuss it.
TN (Twisted Nematic) panels : This is most commonly used panel for monitors as it is cheap which makes the overall price of monitors less. This panel type is known for providing great refresh rate with high level of responsiveness. But it lacks in providing high contrast and color accuracy. Recommended for playing games, video editing and office work.
IPS panels : This panel is known for great image quality, viewing angles and accurate colors. The downside is that it lacks in response time, high input lag and it is expensive. This one is perfect for color related tasks like photo and video editing, watching movies and for office work.
VA (Vertical Alignment) panels : This panel provides best contrast, vibrant colors and is least expensive than IPS. Image quality is little bit down than IPS, middling viewing angles, and blur in gaming. This is mid between TN and IPS panel. This is like a budget IPS panel.
OLED panels : This panel is mother of all above technologies and recommended for any type of work. It gives high response rate, best contrast, excellent image quality with vivid and accurate colors. The drawbacks is its super expensiveness and less available. This screen panel can be used for all purpose like gaming, editing , watching movies and all types office works.
What i would personally recommend : OLED is the best of all if you can afford it. But if your budget is little bit tight, you can go with TN which gives high frame rates with very quick response time ideal for gaming. Otherwise go with IPS panel which gives very good color and contrast accuracy but lacking in response time little bit.
Refresh Rate
Refresh rate is the number of times your screen updates pictures on the screen per second and it is measured in Hertz. For example, if your display has a refresh rate of 144Hz, it is refreshing the image 144 times per second. Combined with powerful GPU and CPU, screen produced higher refresh rate which in turn gives you a smoother experience. Read more about this on intel site.
So more the refresh rate, better quick experience it is, and hence more the price of monitor is. If you are looking a best gaming monitor, it is fine to go with high refresh rate, as it gives you necessary lag free experience.
Resolution
This is also one of the crucial features to be considered while buying a gaming monitor. Almost all the budget monitors come with FHD 1920 x 1080 display resolution which is almost enough for all types of games. But since you are those who live on gaming i recommend 4k, and this article is all about 4k monitors. The 4K gives you amazing experience while playing heavy modern games either on CPU or on PS5.
Color Accuracy and Contrast
Generally average budget gaming monitor provides good refresh rate and response time at the cost of color drops. It fails in giving high color accuracy and brightness which is also very important factor to make you feel during game. But the best monitors are expected to to take special care of for providing original colors and good brightness.
Costly monitor uses DCI-P3 color spectrum that features much more color gamut than traditional sRGB spectrum. DCI-P3 is a common RGB color space for digital movie projection from the American film industry. This gives clarity of each dot of color and makes you look color on the screen as it meant to be.
Portability
Although it is not a necessary requirement as you just fixed your monitor at a particular place, but little portability should be there. Also I am not talking about laptop type portability, i just mean that your monitors comes with a flexible stands that lets you turn your screen little bit left-right and up-down according to your needs. This makes you feel relax if you can turn your screens according to your ease.
G-Sync/FreeSync
Your monitor must be equipped with either G-Sync or FreeSync to voiding tearing and reducing stuttering caused by misalignment between the screen's refresh rate and the content's frame rate. G-Sync and FreeSync are both designed to smooth out gameplay, reduce input lag, and prevent screen tearing.
Both technology sync the monitor to the graphics card and let that component control the refresh rate on a continuously variable basis. G-sync is technology provided by NVIDIA while FreeSync is provided by AMD. You can read comparison between them here.
Also checkout these
Most Expensive Gaming Laptop in the World
Best External Camera Monitor Screen
Best 4K Laptops
Best Gadgets Insurance Company
List of best 5K/4K monitor for extreme gaming
Here we are going to give you a complete list of best gaming monitors for PC and PS5. As you have came here for best monitors that must be either 5k or 4k, definitely the list gonna be expensive. Also every monitors here has its own pros and cons and the order of the list doesn't represent its ranking.
SAMSUNG Odyssey G9

: One of the best monitor for gaming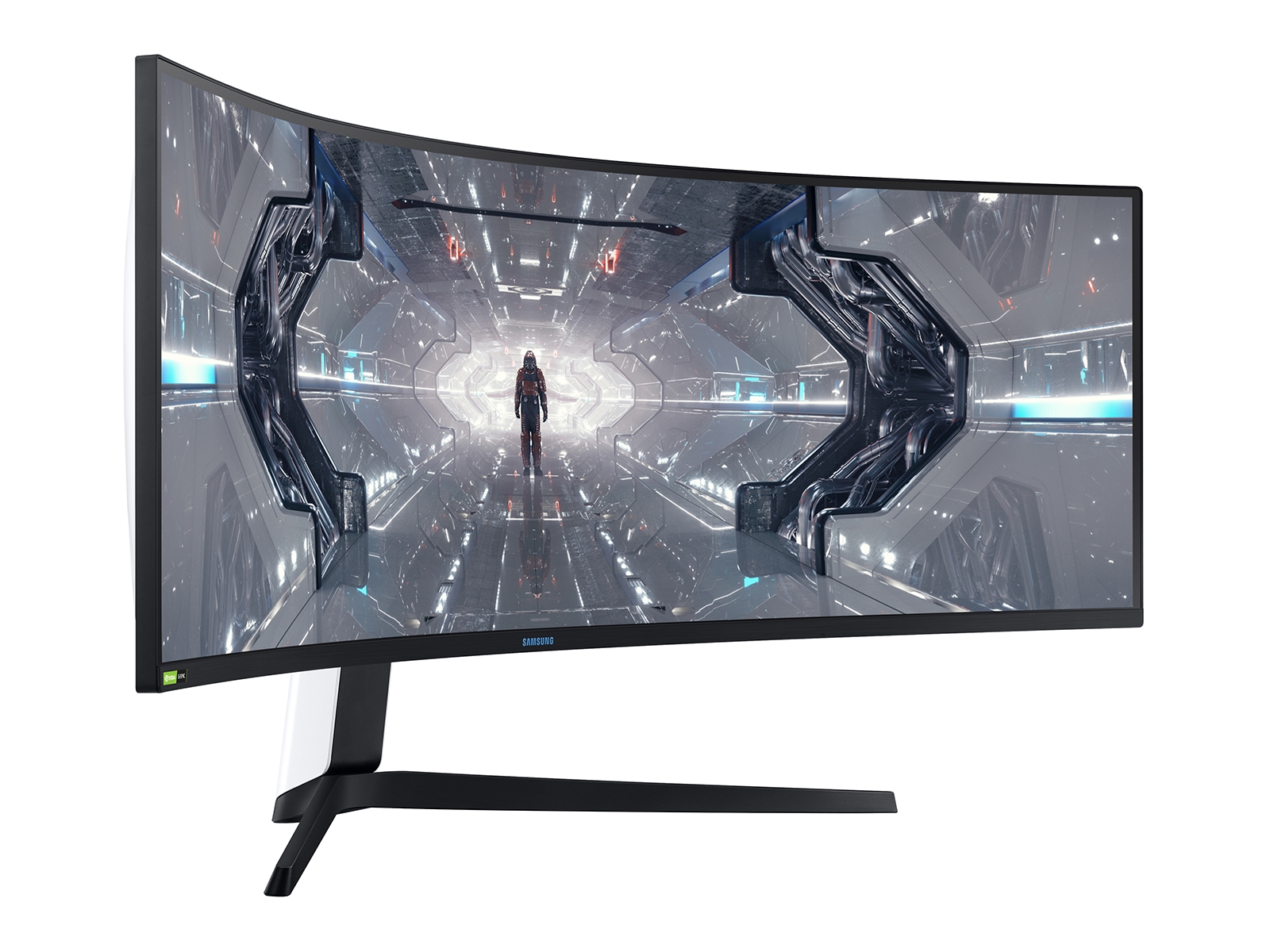 Features : 49-inch Quantum-Dot LED screen | 5K Resolution | Ultra-wide | Ultra-curve | NVIDIA G-SYNC & FreeSync | 240hz Refresh rate | Customizable
Samsung known for making quality consumers gadgets for a very long time, is one of the trusted brand in making mobile phones and monitors. Using their long experience of what consumer want, they always try to adopt cutting edge technologies in their products to keep themselves apart from its competitors. This SAMSUNG Odyssey G9 monitor is one of its masterpiece.
Not just by its ultra unique design, but with its immense features, this monitor is one of the best and perfectly designed for ultimate gaming experience to made gaming world of your imagination real. Generally some monitors gives better color accuracy while some other gives better response time. This monitor ensures both at non-compromising level.
With 49-inch Quantum-Dot LED screen with resolution of 5k (5120×1440), this is Samsung's largest curved (1000R) gaming monitor, which matches the curve of the human eye, for maximum immersion and minimal eye strain. With the screen space of two 27" panels, you can truly take command on the battlefield. See how curved this monitor is.
The Quantum Dot technology ensure the highest class of color reproduction with 125% more color space compared to sRGB and ensures pixel perfect picture quality. This gives a next level experience while gaming and let you see your games as they were meant to be seen.
Quantum dots are actually nano-particle with 3D quantum confinement that emits or absorb different light colors according to their nano-sizes. This modern technologies are being used for making better and better monitors.
Generally at this level of color and contrast accuracy, you have to compromise with response time, which is very absurd for gaming. But with Odyssey's grey to grey lightning fast 1ms response times, you can be sure that you're receiving information as fast as technologically possible.
Also with rapid 240hz refresh rate, you have up to four times as many frames displayed on screen every second compared to a traditional screen.
For a perfect gaming monitor, the screen should provide a tearing and lag free experience. This Odyssey is packed with G-Sync and FreeSync Premium Pro support that matches every frame from your graphics card, so you're never caught short from moment to moment.
Some special features include Infinity Core Lighting which allows you to customize your Odyssey with distinct core color customization, to match your monitor with the rest of your gaming setup.
The screen can be split into three different section for multitasking which is very helpful during live streams. This is also one of the best monitor for enjoying PS5.
check the price at amazon.com affiliate link
Acer Predator X38 Pbmiphzx

: best performing gaming monitor
Features : 37.5″ QHD | Ultra-wide | Curved | 4K resolution | Agile splendor IPS panel | NVIDIA G-SYNC | 175Hz refresh rate | 0.3 ms response time | 2 Speakers | 21:9 VESA certified HDR-400 screen
No doubt, Acer is one of the big and bold name in gaming known for making high performances gaming stuffs-laptops, monitors, keyboard, mouse etc. Its predator series gaming devices are just the next-level. Lots of you might have heard of the most expensive gaming laptop build by Acer. This Acer Predator X38 is just its another masterpiece.
With the refresh rate of 175Hz and and minimum response time upto 0.3 millisecond packed with agile-splendor IPS NVIDIA G-SYNC display, this monitor is not just the costly one but is one of the best performing gaming monitor. As a gamer, the things that you need most is the speed in the form of refresh rate and response time. This monitor has all that.
Equipped with 4K (3840 x 1600) UHD Ultra Wide 1600p curved screen with DCI-P3 color gamut, this monitor is perfect for gaming and color related tasks. DCI-P3 color gamut ensures that every color is faithfully represented with optimal precision.
Tested and calibrated to achieve a low Delta E average of <2 to reproduce true-to-life colors, Predator X38 display gives you a gaming edge with integrated color correction and superior color fidelity. Generally at this lightning speed of refresh and response, the color of average monitor drops, but this monitor do not compromise with colors.
The curvature of 2300R matching with the contours of the human eye, ensures seamless and borderless gaming experience. Curved screens generally give a virtual 3D experience, that is really very amazing during action gaming. With Flickerless and BlueLightSheild technology, the monitor protects your eye during long game sessions and video editing.
With Predator GameView option you can optimize your screen according to games you are playing. GameView provides number of useful features such as setting the level of dark boost, ambient lighting, upto 8 gaming profiles and more. There are three game modes to choose from: action, racing and sports. Use the default profile or customize your own to fit your preferences.
The NVIDIA G-SYNC technology gives you more of what you want in a gaming experience. Smooth, tear-free gameplay and a whole lot more. Generally screen starts tearing due to graphics distortion that occurs when the graphics processor is out of sync with the display. NVIDIA G-SYNC or AMD FreeSYNC ensures it not to happen.
This monitor comes with a nice looking flexible stand that lets you swivel, tilt and vertically adjust your monitor according to your requirements. Generally monitor are fixed but this might be a required feature for some one who felt the need turn and adjust screens depending on different tasks.
Overall this is one of the best gaming monitor packed with all the features that a true gamer needs. With fast response time to color accuracy this monitor lets you not just gaming but all your hard core jobs easily and efficiently. This is also one of the best monitor for PS5.
check the price at amazon.com affiliate link
Alienware AW3420DW

: cool looking and performing gaming monitor
Features : 34 Inch | 4k resolution | WQHD display | 21:9 aspect ratio | IPS panel | 120 Hz refresh rate | 2 Milliseconds response time | optimum dimension | Ultra curve | NVIDIA G-SYNC
Alienware, a subsidiary of Dell brand is the best among all others in providing ultimate quality gaming experience through its high expensive devices. Ranging from laptops to monitors to other gaming stuffs, alienware not just made expensive but high performing devices dedicated to gaming.
This Alienware AW3420DW gaming monitor is equipped with 34 Inches QHD wide display with aspect ratio of 21:9. The screen resolution is of 4k 3440 X 1440 which fetches frames at the rate of 120Hz with 2 Milliseconds of fast response time that keeps up with the action, allowing you to experience every moment of the world you're gaming in.
With these specs you'll see every blade of grass, every glint of steel, every drop of sweat more vividly, intensely and richly than ever before.
1900R curved display takes you deeper into the game and a 21:9 aspect ratio that makes every vantage point epic. The curved screen maximizes your field of vision, reducing eye movement, so you can stay comfortably focused on the game longer. The curvature is perfectly designed to make you feel inside the game.
The new IPS Nano Color technology of the screen gives 98% DCI-P3 color coverage which is a professional color gamut that has greater range than sRGB color spectrum. Generally gaming monitor color drops during gameplay, but this monitor has taken care of its color accuracy, and lets you experience colors as they are meant to be.
The NVIDIA G-SYNC technology ensures that your screen frames stay in sync with your NVIDIA graphics card to portray smooth, vibrant images free from distortion, tearing and artifacts. This is a must need feature for heavy gaming.
What I personally like about this monitor is its look. With Lunar Light color body and black at borders, it has very nice premium finishing, gives a wonderful look to your gaming corner. At its back and corner it has AlienFX —a fully customizable lighting system designed to bring you closer to the worlds. Four independent customizable lighting zones on the monitor combined with other AlienFX enabled devices allows you to personalize your entire battle station to match your style.
Some other features include a unique new gaming-centric menu that lets you select and customize preset game modes. And there is a nice looking monitor flexible stand that lets the monitor to tilt, swivel and adjust heights according to your needs, this mean you're always positioned to game at your best.
Overall this is a wonderful 4k monitor to consider for gaming, even though little bit costly, but worth its features and look worth the amount you spend. This is also one of the best monitor for PS5.
check the price at amazon.com affiliate link
Sceptre C505B

: one of the perfect monitor for gaming and multitasking
Features : 49 inch Dual QHD | 5k | Super-ultra-wide | Ultra-curve | VA panel | Custom set display settings | Adjustable Height | Multitasking monitor
This is another finest gaming monitor by Sceptre and is in our list due to its attractive unique designs and immense quality features. If you are a true gamer and want something big-bang monitor, you should consider this one.
Its 32:9 UltraWide curved 49 inch screen is the center of attraction for a larger audience whose curvature of 1800R is designed to accurately resembles the contours of the human eye. The display is with 5k (5120×1440) resolution with VA panel that delivers exceptional clarity on every inch of screen and double the pixel rate of FHD.
With sharper contrasts of light and darks, LED display delivers a vast array of rich colors, ensuring that moving images have never been so pleasing to the eyes. High dynamic range and 90% DCI-P3 color depth creates richer color contrasts and range within every pixel that provides refined images that rapidly appear and transit at 120hz refresh rate. Definitely, the refresh rate let me down little bit as it could be more better at this price.
Equipped with FPS-RTS options, display setting can be changed according to the need of the game. FPS and RTS are Sceptre's custom set display settings built for an enhanced gaming experience. FPS (First Person Shooter), RTS (Real-Time Strategy). The ultra wide screen lets you do multitasking which is very help for live streamers reducing the use of extra monitor.
Talking to its physical look, this gaming monitor is a super-ultra wide and highly curved 47.18 x 22.29 x 11.28 inches gunmetal black colored device that weighs 46 pounds total. The finishing of the product is fantastic and definitely this gonna be the center of attraction in your gaming room.
With AMD FreeSync, gamers enjoy smooth video & seamless on the spot movement in fast-paced games. The graphic card and monitor refresh rates are synchronized to eliminate tearing and stuttering.
Some extra features include its adjustable stand that lets you adjust the height according to the need and built-in speakers that gives bold and crisp audio during gaming sessions while saving invaluable space on your command center. Blue Light Shift reduces blue light, allowing you to comfortably work, watch, or play applications without straining your eyes.
Overall this is a wonderful 5k gaming monitor with super-ultra screens packed with quality for intense gaming, gives high contrast and color accuracy and virtual 3d curve experience but it lacks little bit in fast refresh rate and response time. You can buy it for multipurpose tasking.
checkout at amazon.com affiliate link
LG 38GL950G
Features : 38 Inch | Nano IPS panel | 4k resolution | 144 Hz refresh rate | 1ms response time | Ultra wide | Curved | NVIDIA G-SYNC | VESA display HDR 400
LG known for making consumer electronics for a very long time has also emerged itself in making smartphones, monitors and stuffs like that. With its long experience the company always try new innovations to make its customer happy. This LG 38GL950G is one of the good monitor to consider in our list.
With 38 Inch ultra wide curved design packed with 4K (3840 X 1600) + WQHD resolution and having Nano IPS, this monitor has every specifications to make your gaming dream true. This is not just one of the most expensive gaming monitor but one of the best performing too.
With 144Hz (175Hz Overclock) refresh rate and 1ms response time combined with NVIDIA G-SYNC, you'll never miss a frame of the action as you clinch your victories with lag-free refresh rates and lightning response. Advanced display technology synchronizes refresh rates to the GPU inside GeForce RTX and GTX-powered PCs, reducing screen tearing and minimizing stutter and input lag.
The Nano IPS panel screen covers 98% of the DCI-P3 color space, the professional film industry standard. Combined with VESA DisplayHDR 400, enabling realistic visual immersion with accurate color and a broader contrast ratio. Regardless of the battlefield, gamers experience the sensation of being in the center.
An ultra-fast speed of 175Hz (Overclock) allows immediate action on the screen. Objects are rendered more clearly for smoother gameplay and an almost surreal visual fluidity. With Sound Sync mode and Video Sync mode, gamers immerse into the game and feel as if they were actually on the battlefield. This is really a wonderful feature to enjoy gaming perfectly.
This gaming monitor comes with Stylish and Ergonomic Design with an ultra-thin 3-side bezel that unites form and function giving you better gaming experience without the distraction of unsightly borders. With nice looking flexible stand, it gives more comfortable viewing with versatile screen tilt, height and pivot adjustments.
Talking to its physical look, it is a black colored 22.1 pounds weight device with dimension ratio of 21:9 having not best but good finishing. Overall, packed with performance with outer beauty, this is one of the best gaming monitor to consider buying if you can afford.
check the price at amazon.com affiliate link
Also checkout these
Most Expensive Gaming Laptop in the World
Best External Camera Monitor Screen
Best 4K Laptops
Best Gadgets Insurance Company