Whether there is photo editing or video editing or any like color related tasks, your monitor must be equipped with necessary level of specifications to render you the most possible natural colors on the screen.
In lots of average monitor, the things on the screen not looks as accurate in color and contrast as it should be. For instance, on gaming monitor, the high density color images might look different from that on the office work monitor.
If you are a professional photo or video editor or animation maker and really cares about the originality and accuracy of the color and contrast of the things on the monitor screen, you should go with the monitor designed for color related tasks.
What should you consider while buying a monitor with color accuracy?
Panel Type
There are various types of screen panel technology used for the production of monitors. These are TN, IPS, VA, OLED etc. These all have its own features and drawbacks. Lets discuss it.
TN (Twisted Nematic) panels : This is most commonly used panel for monitors as it is cheap which makes the overall price of monitors less. This panel type is known for providing great refresh rate with high level of responsiveness. But it lacks in providing high contrast and color accuracy. Recommended for playing games, video editing and office work.
IPS panels : This panel is known for great image quality, viewing angles and accurate colors. The downside is that it lacks in response time, high input lag and it is expensive. This one is perfect for color related tasks like photo and video editing, watching movies and for office work.
VA (Vertical Alignment) panels : This panel provides best contrast, vibrant colors and is least expensive than IPS. Image quality is little bit down than IPS, middling viewing angles, and blur in gaming. This is mid between TN and IPS panel. This is like a budget IPS panel.
OLED panels : This panel is mother of all above technologies and recommended for any type of work. It gives high response rate, best contrast, excellent image quality with vivid and accurate colors. The drawbacks is its super expensiveness and less available. This screen panel can be used for all purpose like gaming, editing , watching movies and all types office works.
What i would personally recommend : OLED is the best of all if you can afford it. But if your budget is little bit tight, you can go with IPS panel which gives very good color and contrast accuracy but lacking in response time little bit.
Color Accuracy, Brightness and Contrast
The range of color human can see is called color gamut. Similarly, the range of color a monitor screen can produce is its color gamut. A wider color gamut means that the monitor can display colors more accurately within that color space
The primary colors of monitors are red, green, and blue. Hence, the color gamut of a monitor is shown in a triangular area enclosed by the color coordinates of the monitor's red, green, and blue colors.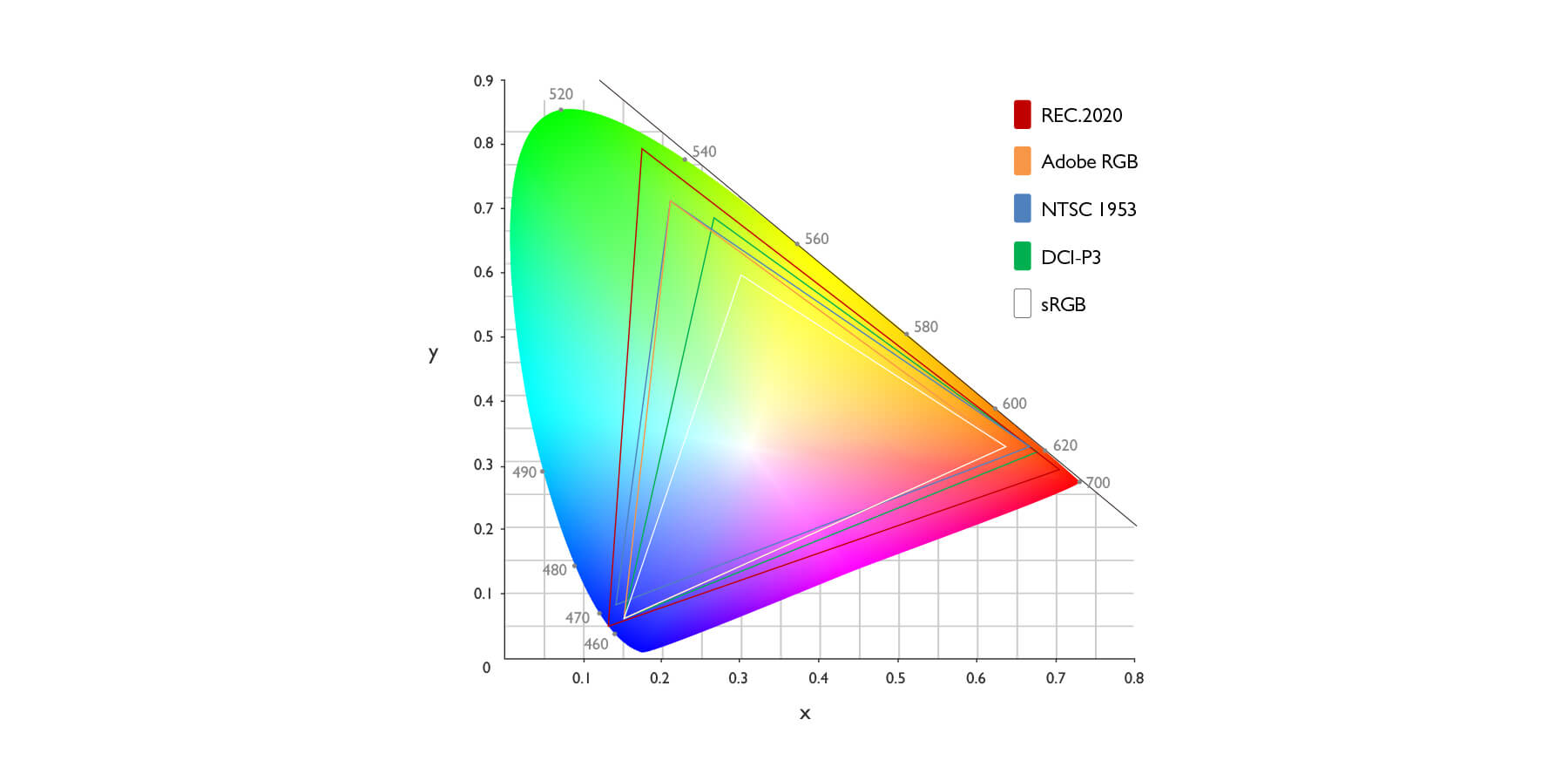 Various color gamut are sRGB which is standard Red Green Blue and widely used in average monitors. Adobe sRGB is developed by Adobe for printing applications and bit better than the sRGB. The NTSC is another color standard designed by National Television System Committee which is close to Adobe RGB. Then comes DCI-P3 standard which is better than all other.
Costly monitor uses DCI-P3 color spectrum that features much more color gamut than traditional sRGB spectrum. DCI-P3 is a common RGB color space for digital movie projection from the American film industry. This gives clarity of each dot of color and makes you look color on the screen as it meant to be.
Generally average budget monitor provides good refresh rate and response time at the cost of color drops. It fails in giving high color accuracy and brightness which is also very important factor to make you feel during game. But the best monitors are expected to to take special care of for providing original colors and good brightness.
Refresh Rate
Refresh rate is the number of times your screen updates pictures on the screen per second and it is measured in Hertz. For example, if your display has a refresh rate of 144Hz, it is refreshing the image 144 times per second. Combined with powerful GPU and CPU, screen produced higher refresh rate which in turn gives you a smoother experience. Read more about this on intel site.
So more the refresh rate, better quick experience it is, and hence more the price of monitor is. If you are looking a best working monitor, it is fine to go with high refresh rate, as it gives you necessary lag free experience.
G-Sync/FreeSync
Your monitor must be equipped with either G-Sync or FreeSync to voiding tearing and reducing stuttering caused by misalignment between the screen's refresh rate and the content's frame rate. G-Sync and FreeSync are both designed to smooth out work, reduce input lag, and prevent screen tearing.
Screen Size
As you want the best monitor for gaming, definitely the screen size should be ideally good enough to let you work like a pro. A big screen give you detail of everything accurately and you need not to give your eye extra focus to see some tiny things.
Some screens come in wide length while some are ultra-wide. If you want to enjoy more while gaming, i suggest you to select ultra wide screen. This will not just let you to work more efficiently but also able you to split screen for multitasking.
One can also go with the curved screens which not just give you amazing look physically but also give you amazing experience while working. Even not exactly 3D, but curved screens gives you 3D like experience by providing extra height and depth perceptions.
Which monitor is best for color accuracy?
List of color accurate monitors (budget and expensive)
ASUS ProArt 4K
Features :
Costly
32inches
4K HDR
Mini-LED IPS
32inches
4K HDR
Mini-LED IPS
Dolby Vision
Calman verified
1600nits brightness
120Hz refresh rate
98% DCI-P3
Blue light filter
This is a mega, costly and attractive monitor by gadgets giant ASUS build for professionals who use to do lots of heavy editing and similar tasks.
With 32-inch Mini LED Backlight with 1600 nits peak brightness and having 4k resolution, this monitor deserves to be in the first row for color related tasks.
Quantum Dot Technology delivers 98% DCI-P3, 99.5% Adobe RGB, 100% sRGB, 100% Rec. 709 and Rec. 2020 color spaces for video editing and post-production.
The screen is Calman Ready, which means the monitor can connect directly to the Calman calibration software for a relatively simple and automated calibration of the image. With a Calman Ready display, conducting a color calibration can be completed in a fraction of the time compared to a pure manual calibration approach.
Its true 10-bit IPS panel with peak brightness of 1600 nits and Quantum Dot technology provides content creators with a vast color spectrum to play with.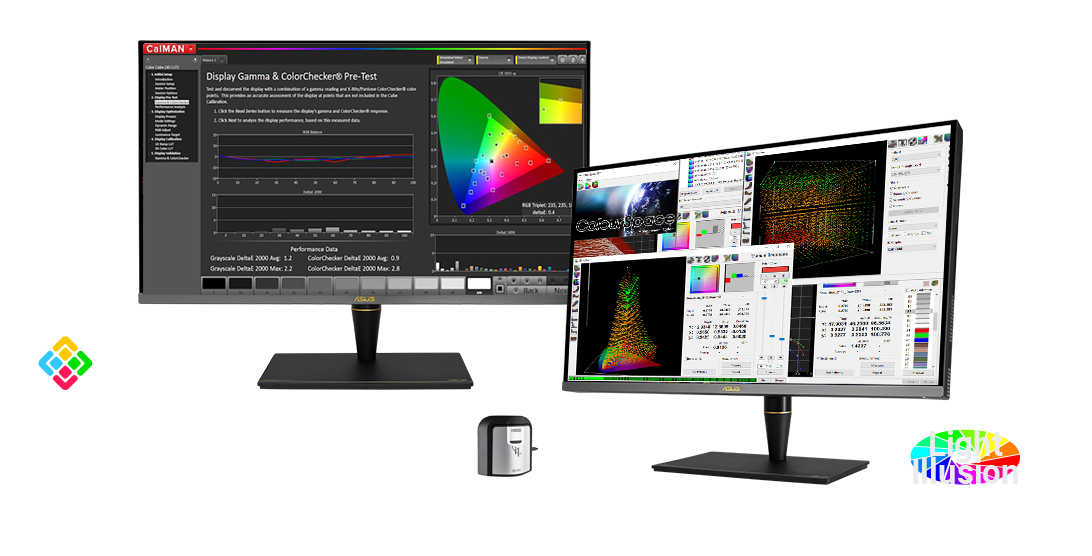 With multiple HDR formats like Dolby Vision, HDR-10, HLG, this monitor provides lifelike experience and flexibility. The 120 Hz refresh rate combined with the AMD FreeSync is for faster content creation without tearing experience.
Well if you can afford it, this is the best option monitor with maximum color accuracy, giving you next level experience while doing your job.
BenQ SW271 4K
Features :
Costly
27inches
4K HDR
IPS Panel
3D LUT Hardware Calibration
Aqcolor
98% Adobe RGB
60 Hz refresh rate
Calman verified and Pantone Validated
Various features setting
This BENQ monitor definitely deserves to be in the top rank if we are talking about color accurate monitors. Packed with 27 inch 4k IPS panel with 60 Hz refresh rate, this is a wonderful machine to let you do your job with quality.
27 INCH 4K UHD resolution gives exceptional clarity of fine details and the HDR increases the dynamic range between black and white so images appear more realistic.
AQCOLOR technology provides 99% Adobe RGB coverage, hardware calibration support for accurate colors for photography. Adobe RGB covers broader blues and greens for more realistic color in outdoor photography.
A 14-bit 3D lookup table (LUT) improves color blending precision and Delta E ≤ 2 ensures color comes on screen with accuracy.
Packed with lots of features and useful tools like hardware calibration which allows to adjust the internal image processing chip without changing the graphics card output data. And calibration software which allow to use Palette Master Element and a calibrator to refine color settings and maintain optimal display.
With detachable shading hood reduces screen glare from ambient lighting. HotKey Pucks allow you to gain quick and easy access to preferred color modes and features with preset shortcuts.
The GamutDuo allows to compare the same image in two different color gamuts, side-by-side, for detailed comparison.
Overall this monitor is worth top considering while buying a best color monitor for color related tasks.
EIZO ColorEdge CG2730-BK
Features :
Costly
27inches
QHD Wide 1440p
LCD screen
Self-Calibration
Unique attractive design
Features for professionals
98% DCI-P3
3D LUT Hardware Calibration
Stable performance during long hour work
This EIZO mega monitor is definitely not for everyone as it is too expensive for average person to invest on a monitor. But believe me if you can afford, this is just next level product in its performances specially in color related tasks.
It is a 27 inch IPS panel monitor with specially designed in-built calibration sensor and microprocessor that guarantees ideal color fidelity. As a result, this is one of the demanding graphic monitor by photographers and designers.
True Black IPS panel covers 99% Adobe RGB color space and 98% DCI P3 color space. For colors just like the original.
The screen impresses with its highest resolution (2,560 x 1,440 pixels), an excellent contrast ratio of 1,500:1, and a brightness of 350 cd/m2.
Where average monitor show variation in brightness and color during long operation, the EIZO monitor ensures color rendering remains constant over a long working period.
The wide gamut is ideal for raw images and printing. The large color space reproduces the AdobeRGB color space to 99 percent. If pictures taken in RAW format are converted to AdobeRGB the monitor will represent these correctly.
With 16-bit LUT, you can use a vast color spectrum, ensured by the fast DisplayPort and HDMI ports in conjunction with the Frame Rate Control.
Overall this is a costly but high performing monitor designed for professionals and big content creators giving exceptional experience specially in terms of color and brightness accuracy.
Philips 343E2E
Features :
Affordable
34inches
IPS Panel
Frameless Ultra wide
Full HD 2560×1080
123% sRGB/109% NTSC
1ms 75Hz
AMD FreeSync
VESA certified
If you are looking for best budget monitor with good color accuracy, this Philips 343E2E might be under your radar. This is an affordable, yet provides good experience for color related tasks.
The screen is 34 inches IPS panel with Full HD 2560×1080 resolution with AMD FreeSync for nice crystal clear tear free experience. The border is frameless which adds nice screen flowing experience, specially during watching videos.
If we talk about its color production, then this monitor is packed with IPS panel with Philips Ultra Wide-Color technology that displays up to 123% sRGB and 109% NTSC color gamut for life-like images and accurate color reproduction.
Ultra-fast 1ms response times and a speedy 75Hz refresh rate with AMD FreeSync technology provides fluid, artifact-free working performance.
Packed with features like LowBlue and EasyRead modes for easy on-the-eyes productivity and reading experience, as well as Flicker-free technology to reduce eye fatigue.
Overall this is a budget nice looking monitor with good color accuracy perfect for content creator and occasional gamers.
BenQ PD2700U
Features :
Affordable
27inches
4K
IPS panel
AQCOLOR
60Hz refresh rate
Anti-glare property
16:9 Aspect ratio
This is another monitor with good color accuracy by BenQ. Even though this lacks in higher refresh rate with high response time of 5ms and hence not recommended for gaming purpose, but the color and brightness accuracy makes it better for content creation and all other color related tasks.
With 4K UHD resolution combining BenQ exclusive AQCOLOR technology, this monitor delivers color as nature intended. Such high resolution offers extraordinary clarity of fine details, making animation, visual effects, graphics, and photos look their best.
This BenQ PD2700U covers 100% sRGB and Rec. 709 color spaces with impressive Delta E ≤ 3 value. You can have confidence in your color. The screen is is Calman Verified and Pantone Validated.
PD2700U's advanced IPS wide viewing angle technology minimizes color shift to inspire absolute design confidence. 100% sRGB color gamut accuracy adheres to industry standards in digital production, and Rec. 709 reproduces accurate resolution, frame rate, color gamut, gamma, and white point performance in high-definition video work.
With HDR10-compatible feature, content creators can preview HDR video content while editing for superior final output.
The monitor has the capability to offers curated display modes to deliver professional results.​ There is a Darkroom Mode to adjust image brightness and contrast for superior work in dark environments.​
Packed with industry-leading Eye-care technology, the monitor offers greater user comfort during long periods of use. Low Blue Light Tech filters harmful blue light, diminishing eye fatigue and irritation, while Flicker-free eliminates flickering at all brightness levels and reduces eye torture.
Checkout Similar Article